Our Story
Discover A World Of Unparalleled Tastes
And Textures.
The Beginning
Our story began in 1890. From the start, we've focused on quality products made to authentic, family recipes, because that's what our customers expected. They still do today.
1890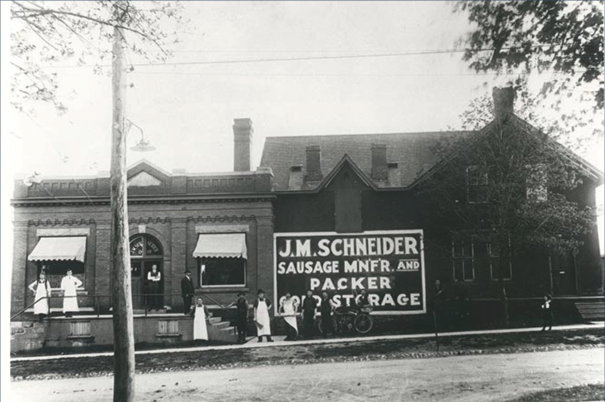 01
The J.M. Schneider House
J.M.'s first satisfied customers were his own neighbours. He began selling sausages, made to his family's recipes, out of his home on Courtland Ave.
1903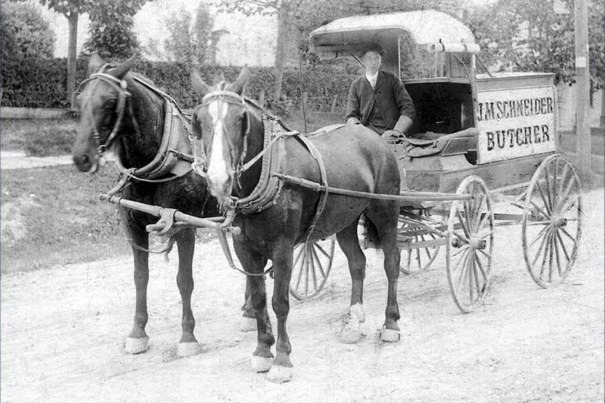 02
Horse-Drawn Delivery
Strong demand meant the whole family, including J.M.'s son Herbert (shown here), had to help deliver sausages to butchers and even customers' houses.
1925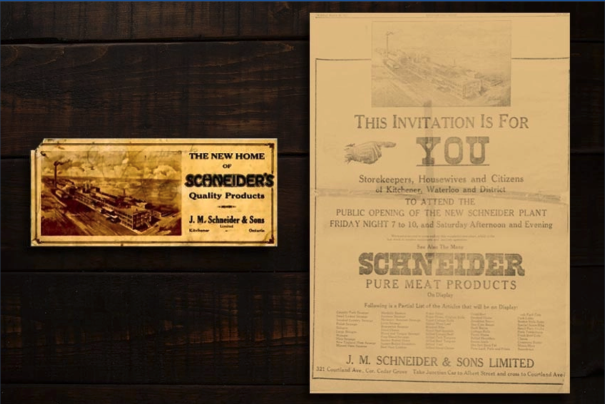 03
New Plant Opening: Courtland In Kitchener
Success allowed J.M. to expand operations into a brand new plant on Courtland Ave in Kitchener. The entire town was invited to the opening.
1930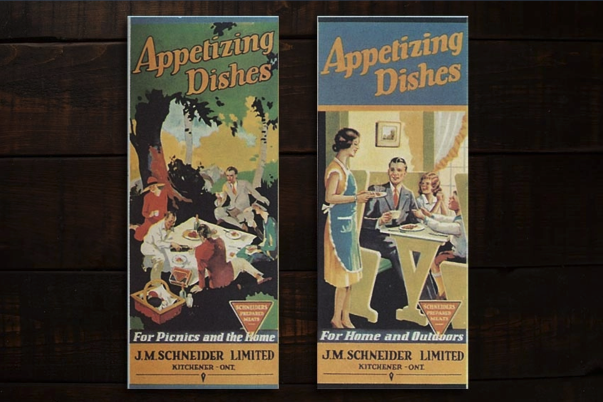 04
Recipe Books From The Great Depression
During the hard times of the Depression, Schneiders' published recipe books to show appetizing ways to feed a family, even on a very restricted budget.
1932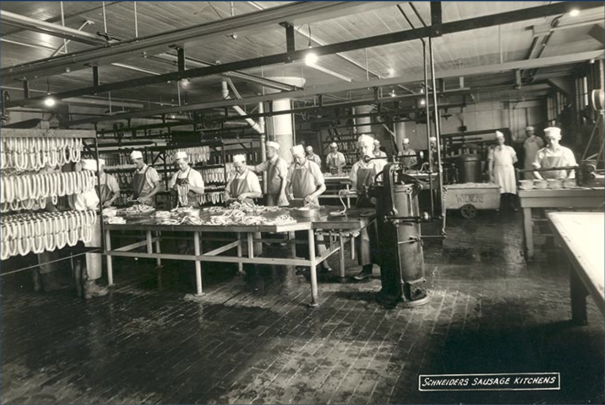 05
Sausage Kitchen
Schneiders' grew its range of sausages to 16 distinct recipes. Many were crafted by Wilhelm Rohleder, one of the company's German-trained butchers.
1932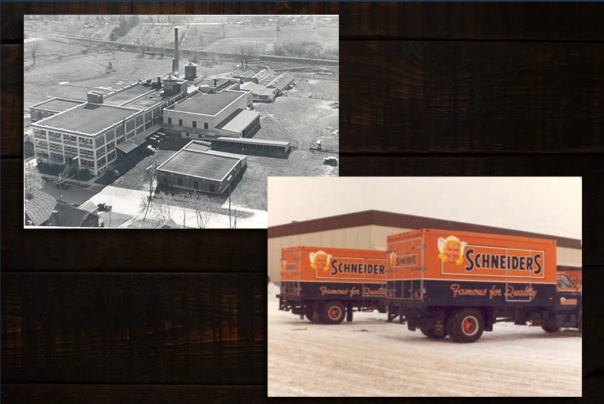 06
How We Arrived At Our Signature Colour
The plant's water tower was bright orange, from rust-inhibiting paint. It was so recognizable that it became one of Schneiders® official colours.
1950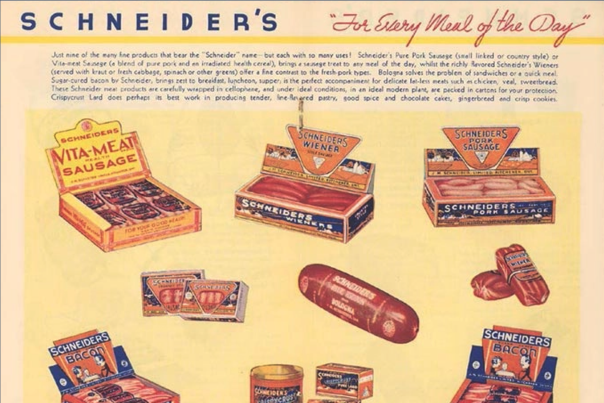 07
Schneiders® Products From 1950
As Schneiders® grew, so did its product range. Recipes included pork, beef, veal, lamb and poultry – "For Every Meal of the Day", as this ad stated.
1956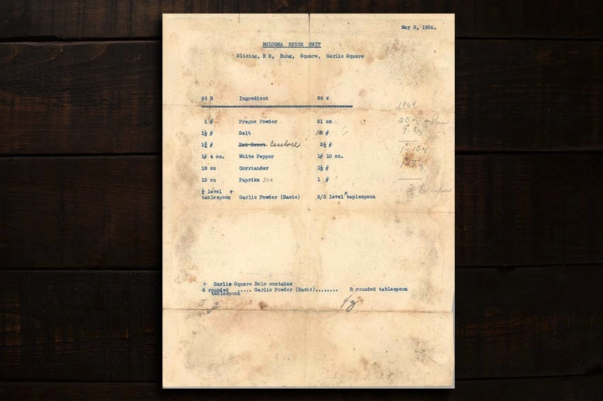 08
Schneiders® Research & Development Recipes
A well-worn page from the Schneiders' recipe book, showing classic spices like paprika and coriander that the butchers used to craft bologna.
1959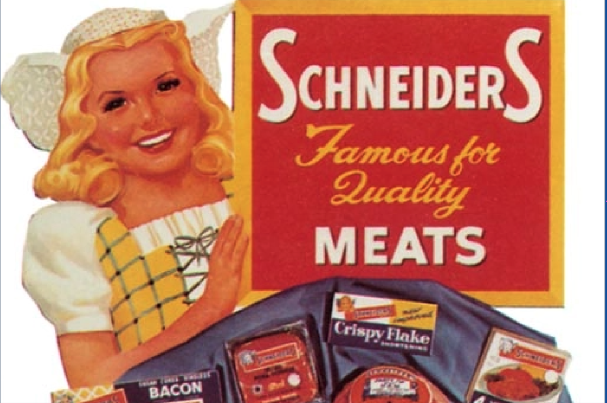 09
Schneiders® Dutch Girl Posters
A store poster for Schneiders® prominently featured the now-famous Dutch Girl, who was trademarked in 1955.
1965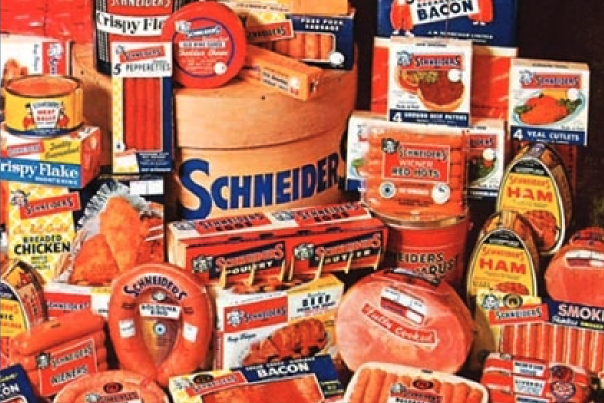 10
75Th Anniversary Products
By the time it turned 75, Schneiders'® had a range of over 250 European-style products. That included over 55 different varieties of sausage!
1983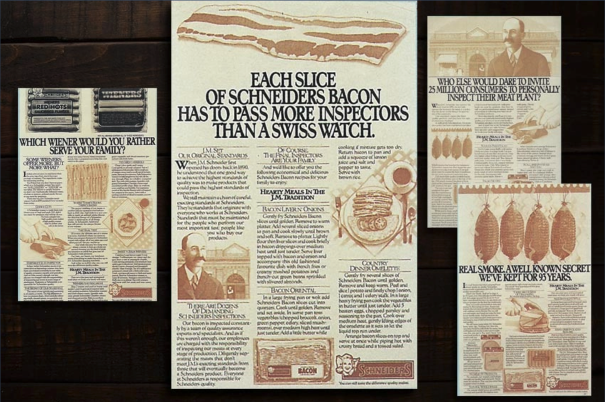 11
1983 Advertising Campaign
This award-winning series of ads very creatively emphasized Schneiders'® heritage of quality ingredients and traditional, craft preparation methods.
1994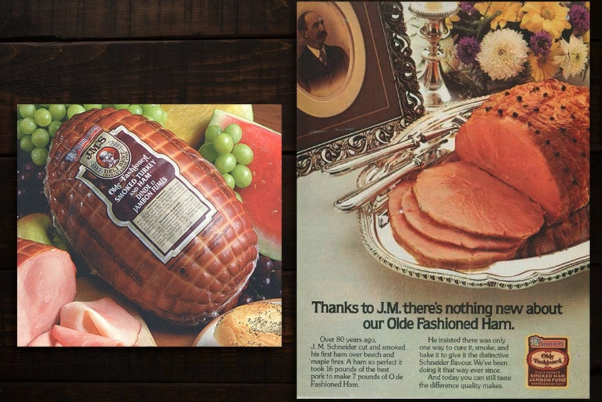 12
Olde Fashioned Products
The "Olde Fashioned" line, including smoked turkey and ham, were made to J.M.'s original recipes and were personally guaranteed by his grandson, Fred.
1996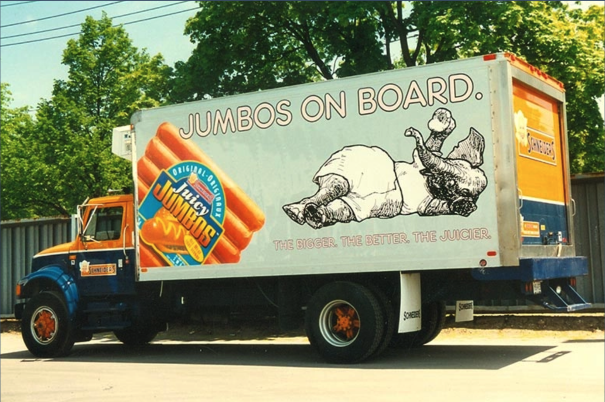 13
Juicy Jumbos® Truck
What better way to advertise all-popular Juicy Jumbos® wieners than a rolling billboard? This company truck says it all: bigger, better, juicier.
2013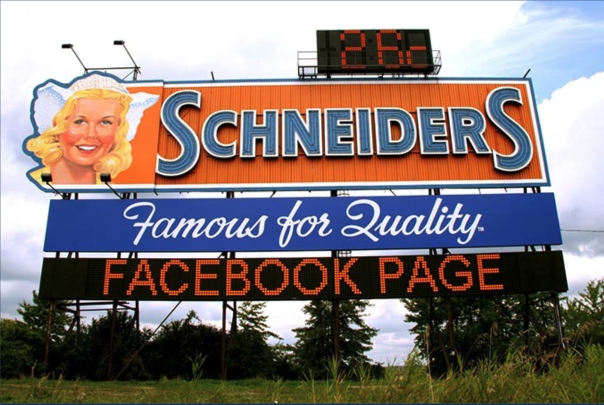 14
Iconic Schneiders® Signage
A giant Schneiders® sign has greeted motorists on their way into Kitchener since 1961. Rebuilt and digitized in 2013, it's still "Famous for Quality".
2016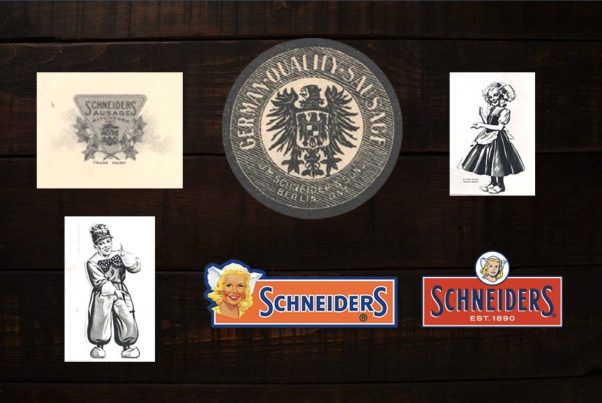 15
A Look At Our Trademark Over The Years
The logo has Old World roots. It evokes Schneiders® Pennsylvania Deutsch heritage, and includes a Dutch girl in a bonnet showing wholesomeness.